How To Send Free Text Message From Computer
We have been going through the era of social networking. All of your friends have one or two social networking and instant messaging services accounts, right? This itself indicates how far we have gone.
Have you ever gone through a situation when you want to message a friend urgently, and you can't find him/ her online in any of the social networks? Believe me, it's painful!! You will suffer more if you have no balance on your phone.
But you are not going to bang your head in such a situation from now on. I am here this time to help you send a text message from a computer.
How to Send Text Message from Computer?
I have listed out free text messaging websites only. But you should check out each and stick with the one that works for you. The one worked for me may not be going to work for you.
#1. Way2sms
Way2sms is a trusted website having more than 40 million users. I have checked myself and found it worthy. If you prefer not to send a text from computer to phone, you can make use of their Android app.
You need a way2sms account to start texting from the computer. I have seen many services, which has an SMS sending form on the homepage. But later I came to know that most of them are fake. Your message will not reach the destination if you use them.
Anyway, we can start now. Follow the steps given below to create an account.
Step 1: Visit way2sms.com by clicking here (Or type the URL into your address bar and press Enter).
Step 2: You can see their homepage (refer to the image). At the middle, a login form is provided. You can make use of it if you already have an account with them.
Step 3: If you don't have an account, click the Register button to the left. You will be lead to another page.
Step 4: Here, a registration form is shown as you see with any service. Enter the necessary details into it. Don't give any fake info.
Then, you need to enter a confirmation code to avoid bots and turn the radio button to agree to their privacy policy, terms and conditions. At last, press Verify& Register button.
Step 5: A password will be sent to your mobile. Use the same to login to your account. After that, you will be asked to enter a new password. Do it.
Don't forget to confirm your email via the link sent to your inbox.
Step 6: On your account dashboard, hover over SMS, then click on Quick SMS. You will be able to see two forms, Mobile No., and Message. The character count is limited to 140.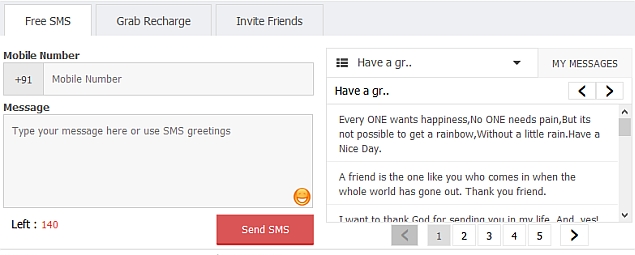 After entering both, press Send button. That's all. It will reach the destination at once.
Hurray, you now know how to send a text from a computer.
#2. Mighty Text
Way2sms works only for Indian users. So, you might have become unhappy to see that in my list and found it not useful for you as a non-Indian. Don't worry. This will work like a charm for anyone.
Mighty Text is not a PC only thing. You have to install an app on your Android phone also. After setting up, you can send a text from computer to phone without any issue.
What Might Text does is syncing your contacts and messages and then using your phone's settings to send messages.
You need to follow a step- by- step process to enjoy Mighty Text service. I am going to guide you through the entire process.
Step 1: You need to do this on your Android phone. Go to Play Store and then search for Mighty Text.
Step: You may get a bunch of results. Choose the first one named SMS Text Messaging and Group MMS. And then click on Install.
Wait some time to get it installed. The speed depends upon your internet connection.
Step 2: Locate the app and open it. You will see the screen as the image down below.
Step 3: To send a text from computer, you need to select a Google account and tap Complete Setup button at the bottom. Now, you can move the Android phone aside.
Step 4: You are now entering into the steps that must be done on the PC. Open a browser. And visit mightytext.com/app.
You need to give Mighty Text app the permission to access your Google account. (Make sure you provide access to that account you use on Mighty Text mobile app).
Step 5: Wait some time to get the web app loaded. After the loading time, you can see all your contacts on the screen.
Step 6: The rest is simple to do. Just choose any contact, type your message and then, press the Send button. I am pretty sure that this will work for you to send a text from a computer.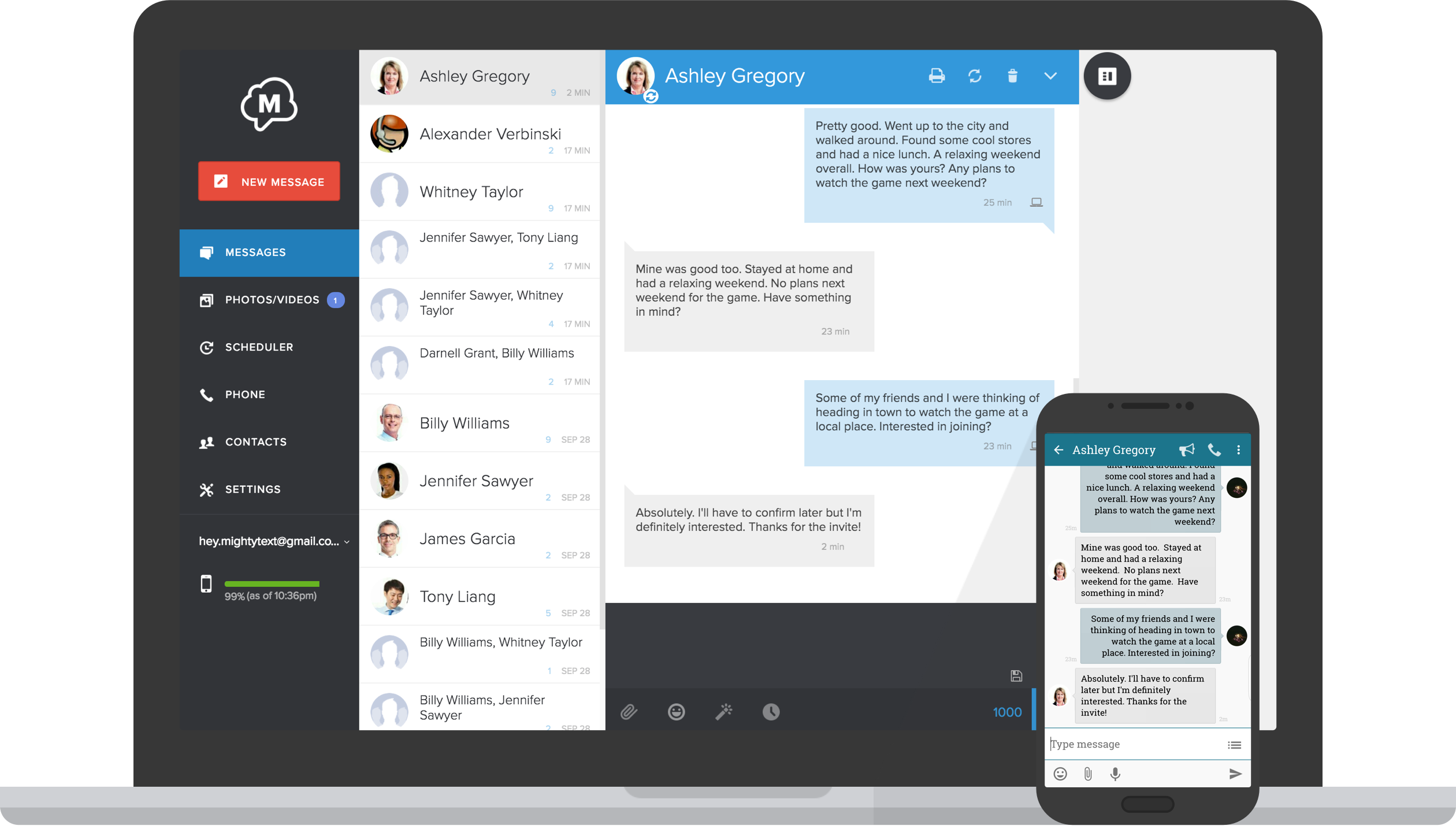 N.B .:- You can make use of browser extensions also if the web app seems uncomfortable.
#3. Alternatives
If you find any difficulty in texting from a computer with the two methods given above (rare case), you can go for another website.
Here are some of the websites with the free text messaging feature.
www.spicesms.com
The two I shared above have used by me. You can check out these sites also. Or simply go for a Google search.
Have You Started Sending Text Messages From Computer?
I have given you some simple yet useful methods to send SMS from your computer or laptop. If you are wondering where the Gmail SMS method went, you should know that Google discontinued the service in 2014 April.
I don't think you need any other service outside of my list. The second method serves the purpose for anyone. Make sure to connect your mobile with a network connection for the syncing purpose.
I hope it's time to stop my words. Do share this post with your friends and share your doubts with me in the comments section.
How to Search Within a Website?
There are two parts to the game. One is to show up on the first few pages of results in search engines like Google or Yahoo. And the other is if you are noticed in the search results of search engines then making how to search within a website easily.
This search within a site needs you to provide a convenient way for people to locate things on your site using the terms that they are familiar with. If your site is easy to reach but then you fault on the next part, then all efforts that are done in the first part also go wasted.
Understanding how search engines work is the first step to being found by your customers through organic searches. There are three pieces of software that together make up a search engine: the spider software, the indexing software, and the query software.
The spider software crawls through the web looking for new pages to collect and add to the search engine indices. The spider doesn't collect images or format. It doesn't display anything, and it gets as much information as it can in the shortest time possible.

The indexing software catches everything the Spider can throw at it. So, whatever a spider throws, it tries to make sense of it through an algorithm. It analyses the pages and links for word combinations to figure out what the web pages are all about and get it stored.

When someone types a word into the query box on a search engine page, then it's time for the query software to go to work. It presents the remarkable work done by the spider and index software. 'Searching the web' actually means that the query software goes through all the records that have been created by its own index software and collected by the spider software.
How to Search Within a Website?
The search engine actually does all the hard work of collecting, analyzing and indexing web pages beforehand, but it makes that information available only when someone does a search by entering words in the search query box and hitting the return key.
Now that your site is found by the user, the second part that comes is 'how to search on a webpage'. For this, the user needs to follow the below steps.
Open the Find bar using one of the following methods
Use the Ctrl+F keyboard shortcut.

Click on the menu button, and then click Find.

Type your search term in the Find bar that appears at the top of the page.

Press Enter to search the page.

If no instances of your search phrase occur on the page you're viewing, 'Phrase not found' will appear next to it.
The Find bar generally has an option of closing, next, previous, Highlight all, match case, etc. These options are not found in Quick Find.
The Quick Find bar is useful for quick searches and meant to disappear after a few moments.
If you want to find phrases that occur in links on the page you're viewing:
Type ' (single quote character) to bring up the Quick Find (links only) bar.

Type a search phrase into the Quick Find.

The first link that contains the phrase you've typed will be selected.

Press command+G to highlight the next link that contains the required search phrase.
You can also find a phrase or word while typing on a page without going to Find bar. For this, you need to enable a feature by following the given steps.
Click the menu button and choose Preferences.

Select the Advanced panel.

Click on the General tab.

Checkmark 'Search for text when I start typing'.

This will enable the feature; now type a search phrase while you are viewing a website. As you type, the first instance of your phrase will be highlighted.

Press command+G or F3 to highlight the next instance of your search phrase.
These steps are more or less the same whether you are using Windows or Mac. The difference can come in shortcut keys. You can use the keyboard shortcuts Ctrl+F (Windows, Linux, and Chrome OS) and ⌘-F (Mac) to quickly open the find bar.
When users can easily find what they want on your site, they are less likely to go away disappointed when the content is actually available on your site albeit under a different name. To facilitate this, you should add a search engine catering specifically to your site. There are three ways of adding a site search, which makes it easy how to search for words on a web page.
Installing Your Own Search Engine Script

Using a Free or Commercial Third-Party Hosted Search Engine Service

Using the Major Search Engines
Each of these methods has their own pros and cons, and you need to figure out the one that suits you the best. Adding a search engine improves your site navigation, and the user doesn't get confused about how to find a word on a page.
By allowing your visitors another means to locate items on your site, you are increasing the likelihood that they will find your site useful, bookmark your site, buy your goods/services, and so on. And there you have it! Now you know how to search within a website! You can use this on any website and for a variety of purposes.
If you like, this article do consider sharing on social media! And if you have any questions or queries regarding the process, feel free to drop a line in the comments section below! We are always happy to hear from our readers and help you out in any capacity that we can!
With that, we come to the end of this article! For more such tech-based how to-s you can subscribe to our newsletter! We won't spam you; it's a promise!