How To Recover Deleted Files On Android
Lost your data?? Concerned?? Well, now you don't have to be! Here I will tell you how can you recover deleted files and documents that you have just lost.
Nowadays, Android smartphones are no longer restricted to basic telephony features! Rather, they are have taken on the mantle of storage devices, music players, portable cameras and a lot, lot more!
Along with that, they also contain all of our contacts; something we cannot afford to misplace at any cost.
However, mishaps do occur! We can lose our data due to various reasons. Maybe due to the lack of knowledge, anger, memory card corruption, or through some mistake. No matter what the reason is, all I can say is this data loss can lead us into big trouble.
But, here is some good news for you! The essential files you have lost do have a backup. Thus, we can recover them easily. Although deleted file recovery is not tough, it does require a few steps to be followed. Here I will show you how to recover deleted files.
How To Recover Deleted Files On Android
To restore deleted files, you have to download third-party software. There are a number of software options out there to help you restore deleted files, but the best one among them is Android Data Recovery utility.
This is the best among the free software and has a fairly high success rate. Let's have a look at the step by step procedure, which will get back your happiness by helping you recover your lost data.
#1. First of all download Android Data Recovery utility, and run it on your system. Make sure you download the correct software from the authentic website with proper care. Because, this utility is what going to get back up your lost data, so no compromises with this.
#2. Connect your Android phone to your PC via USB, as per the instructions on your screen.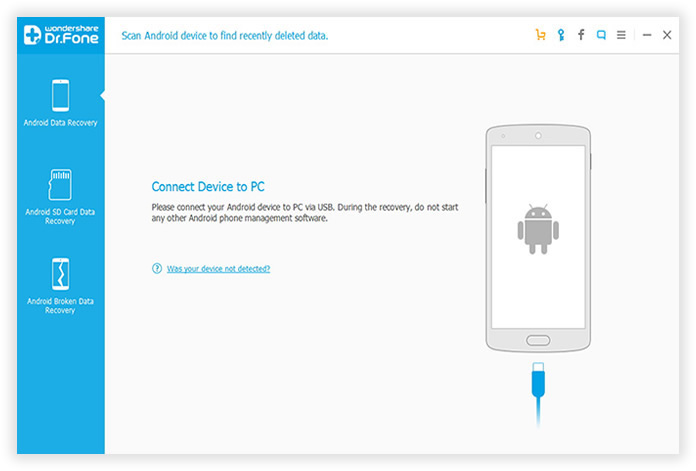 #3. After connecting USB, you'll be redirected to a page with a big Next written over it. Click on that and you'll reach a critical page.
Here you'll be asked to select the types of files you want to recover. Select all if you want to recover all your data including Contacts, Messaging, Call History, Whatsapp messages and attachments, Gallery and more.
If not, select file individually you want to recover and click Next.
#4. Once done, you need to enable USB Debugging on your phone. This is how we authorise Android Data Recovery to get access to our phone's internal memory.
Remember, the method to enable USB Debugging varies according to the Android versions.
If you own an android version 2.3 or earlier, the way to enable USB debugging would be-
Settings>> Applications >> Development >> USB debugging (check this option to Enable it)
For Android version 3.0 to 4.1
Settings >> Developer options >> USB debugging (Check the option)
Android 4.2 or later
Settings >> About Phone >> Build number (Tap this option multiple time until it unlocks the 'under developer mode') >> Back to Settings >> Developer options >> USB debugging (check on this option)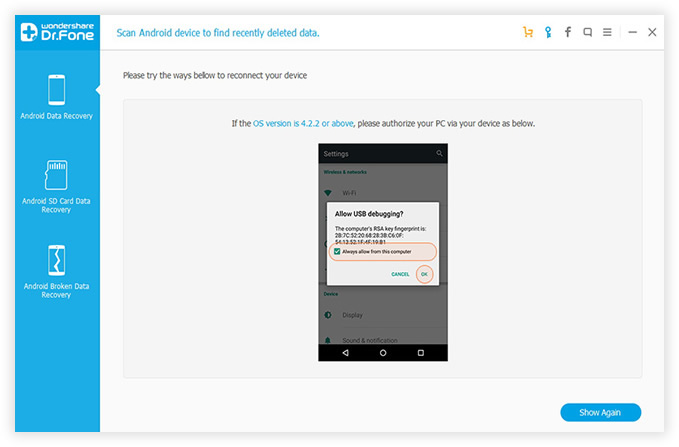 #5. After Enabling USB debugging, you have to do nothing but wait. The recovery software will analyze your phone in-depth and will try to recover your data. This process will take a few minutes so have some patience and wait.
Note: If the analysis gets failed, don't worry. The software is good enough to try alternative methods and get back your data.
#6. Just after the analysis of your phone, you will get a superuser request on your phone to allow superuser authorization. Tap Allow. And click the Start button on the computer screen to start scanning.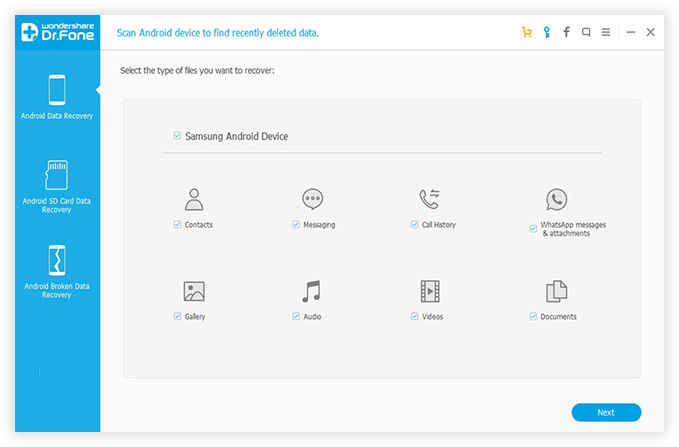 That's it. We are almost done. After clicking the start button, we have to wait until the process completes. The whole process is expected to take a few minutes and can be more depends on the size of data to be recovered.
#7. Once the scanning is done, you will be shown a screen containing all your data which includes contacts, text messages, photos, videos, important documents and everything you had requested to recover.
All the data highlighted with red colour are those you had lost. Select the files you want to recover and save them to any location on your computer.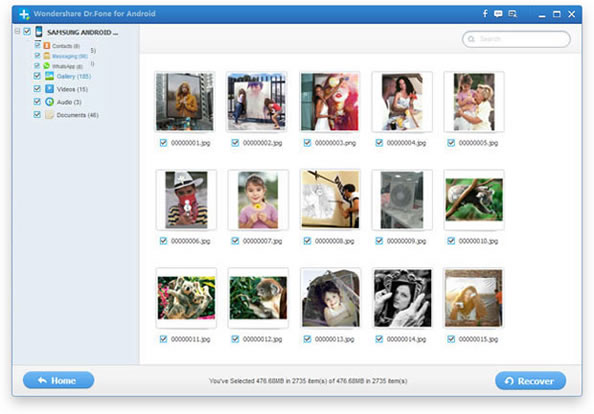 Important- If you have lost your data and have not recovered them yet, don't save any other files on your phone. Else, those lost files will be overwritten by the new files that will lead to permanent loss of data.
Wow, you are done recovering all the deleted files. I can imagine the smile you have on your face!
Losing things is painful that too when there are least chances of getting them back. But, thankfully there exists software like Android Data Recovery, which helps us to restore deleted files.
I hope that after following this guide you'll manage to recover deleted files on your Android device. If you have any queries regarding the tutorial feel free to ask.
If it really helped you to get back your lost data, don't forget to share it your friends, they might be looking for such help!
You may also like to read this article on iPhone backup.
How to Screenshot on Snapchat Without Others Knowing About It?
If you're a 20th-century guy, you have two things for sure. A Facebook account, and a SnapChat account! I mean who in the world won't have these two "basic needs" of this generation huh?
And you being on this post already told me a couple of things about you. First you have a Snapchat account, you most definitely do, and second, you need to know how to screenshot on Snapchat without knowing them.
Well, that's not really a "finding a needle in the haystack" kind of task, to be honest, in fact, a 5year old kid of this generation can do that! ( You don't believe Snapchat privacy would be so shitty ? ) Ah? Well, you'll soon find out.
But before that let us share a few words on how exactly this whole Snapchat thing works like, right?
What Makes Snapchat Different From Any Other Photo Sharing App?
Snapchat has over 7Billion photos and videos being sent every day! Just imagine that number.
Well, why would people use Snapchat instead of Instagram? After all, it does the same thing, huh? Let you share photos, right? Or maybe Facebook? Considering Facebook is a much older, and successful platform compared to Snapchat?
Well, the answer is, because of the "non-permanence" of photos and videos on Snapchat! This is something unique to Snapchat, and it says: – We won't store your photos on our server, and it gets deleted instantly once it has been seen by the receiver.
And, the centrality of Snapchat only across Photos, Videos and stories makes it kinda unique too, meaning it doesn't go into that other kind of broad social networking. It lets you send and receive instant multi-media messages which self-destruct, as simple as that.
In fact, the extreme focus on the Privacy of snaps might have contributed significantly to its success. As the photos are meant to be deleted instantly, the sender receives a notification if their receiver secretly wants to screenshot their snap, and that makes it kinda impossible to do it.
Unless of course, you read to the very end of this piece to find out exactly how to screenshot on Snapchat without knowing them, or if you prefer to save a Snapchat forever!
From Pickaboo to World's Largest Photo Sharing App.
Of course, I'm gonna serve you the dish you've been waiting for, but what fun is it if you don't even know how your favorite app got to be where it is today, huh?
Around April 2011, from Evan's ( the Founder's) living room, a tiny little app that let people share images was launched termed as Pickaboo.
2 months later, it got re-branded to SnapChat (And probably, that's what made all the difference, right ?).
Snapchat was pretty successful almost instantly, but what took it to the #1 peak out there is its constant addition of features and tools and what not! As they say, you keep improving; you keep succeeding huh?
Geofilters
This is what they added just around 2 years back, in 2014! This added a special kind of "graphical overlay" over your pictures if you were around a certain location!
SelfieLens
Not just that, Snapchat didn't just become the world's top photo-sharing app out of the blue. It was destined to be so because they never quit improving! Around 2015, they added the "real-time face detection" enabled Selfie Lens feature which enabled you to add awesome, unique (or terrifying maybe) effects to your snaps using Snapchat!
Stories
Did I mention Stories yet? If you're a Snapchat user you probably already know about them, but what you don't yet know is Stories didn't exist since forever on Snapchat. They were just added around 2013, to let you share a chronological series of snaps that make it up to a story! And well, this again here is yet another feature that's totally unique to Snapchat.
How to Screenshot On Snapchat Without Knowing Them:-
Well, Snapchat is pretty serious about its security, so it's only natural for it to notify the sender if you try to take a snap of their snap on your cellphone.
So no, if you are curious about how to save a Snapchat without knowing them, then just using the traditional "snapshot" keys on your device won't help. (Well, don't worry, what's coming in the following sections would surely do ! ).
There are two basic ways to Screenshot on Snapchat without knowing them, one is pretty basic and can be executed in seconds. While the other one is a bit longer road down the lane, but that takes only a couple minutes too. So it doesn't matter which method you're using they both will help you save a Snapchat.
Easiest Method to Screenshot on Snapchat Without Knowing Them:-
This method is the easiest, simplest and the most basic, and so naturally my favorite too!
All you need is two cell phones. So here's what you have to do:-
You receive a snap on Snapchat, and you want to capture it, right? Open the snap on the device and place the cellphone on which you received the snap on a table or chair ( just anywhere, where it can be stable). Now bring any other cellphone with a good camera above the cellphone where the snap is, and take a screenshot of the screen of the other cell using this cell. ( Too complicated? )
Here's a simpler way to understand this:-
You receive a snap > You open it > Now snap this screen's screenshot using any other cellphone simple as that!
How to Screenshot on Snapchat Without Knowing Them (Method #2).
Login to your Snapchat!
Swipe Right on your screen, it would get you all the sent and received Snapchats. This is where you have to Load the Snapchat you want to save. ( Keep in mind, you need just to load it, not open it.)
Once it's loaded, turn on Airplane Mode on your device. If it's an Android device, you can do it via the Notifications menu, or by bringing the shutdown menu up.
Or if you're on an iOs device you can do it via Control Center:-
By turning the airplane mode on, you're cutting off your Internet connectivity. But also, make sure your wifi is turned off!
So once you're in the Airplane mode, open the Snapchat you want to save, and Screenshot it! ( Well yes, using the traditional screenshot keys is fine! ).
So, now you'd have a screenshot of the snap. But don't turn your internet back on, yet! After taking the snap, log out of your Snapchat account!
Now, Kill the Snapchat app. On Android devices, just bring up your "recent apps" menu, and slide all the apps to the left or right to kill them.
While on iOs you can kill it by double-tapping the home screen, which will bring up the Recent Apps screen and you can just slide it left-right to kill it.
After you've killed the app, wait for couple minutes before logging in back to Snapchat. Or, if possible, turn your device totally off and then log back into Snapchat.
When you do, your friend won't know that you opened their snaps, because you did so while you were offline so well? Mission Accomplished!
Sorry if it went too long, but now I'm pretty confident you know how to screenshot on Snapchat without knowing them right? After all, that was the final goal of this 1200+ words long step by step guide anyway.
Well, these two aren't the "only" methods to save a Snapchat, so if you've come across any other way and it "worked" for you, would you like to take away couple minutes out of your life and let me know? I would love to add it here!