How To Use Facetime On Android Phone?
Facetime is a video chatting software for Apple. Have you ever used Facetime on your PC or Android phone?
I am pretty sure that you haven't. Why because there is no Facetime application available for Android and Windows devices. Apple is very protective of their products.
Don't be desperate. There are many applications, which serve the very same purpose as Facetime. So, here I am sharing some of the best Facetime alternatives for Android phone.
How to Use Facetime for Android?
Still, you want to get the above question to be answered?
Trust me. You can't use Facetime on any non-Apple products, let alone Android!! That's why I am here to give you some breathtakingly awesome Facetime alternatives for Android.
Whenever someone asks you ' How to use facetime for android,' let them know that Facetime is a unique application for Apple devices.
Ready to Facetime on Android? Here we go.
#1. Skype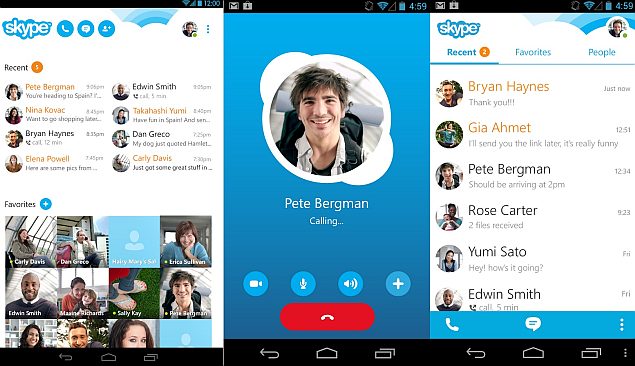 Skype is the best answer for how to use Facetime for Android. You might have already familiar with this. I use it often to chat with my online clients.
It has a broad user base all over the world. Since Skype is a subsidiary product of Microsoft, you can use a Microsoft account for Skype too. Skype is the best video chatting solution for even relatively slower internet connections.
The call quality is superb. If you have a good camera, video quality never sucks. Overall Skype is the better bet. With some extra bucks, you can make calls to cellular numbers also.
Skype is not an inbuilt application. You have to install the same from Playstore.
#2. Hangouts
Hangouts are the Facetime of Google. It comes preloaded in most of the Android devices. The only requirement is a Google account (everyone has one these days).
Have you ever heard of webinars? It's like a seminar conducted online. The medium of all the webinars I saw was Hangouts.
Unlike Facetime, you can use Hangouts on any platform. For Android, an app is available. The web version of Hangouts is preferred by computer users.
Apple allows you to use Facetime only when you are connected to a wireless network. But Google's advanced data latency management helps you to make calls on Hangouts even with a cellular data connection.
An iOS version is also available.
Don't ever search for ' how to use Facetime ' anymore.
#3. Viber
Viber has got an impressive fan base. Whenever I think of VoIP calls, this app always comes to my mind.
Don't judge the app with its icon. It may seem like a colour swapped WhatsApp. But the level of service Viber is offering is just awesome.
I have used it even in a 2 G network connection. To my surprise, Viber performed well (Don't expect super- quality with a 2 G network).
Viber also offers video chatting service. But I would suggest using their voice calling service as it is very optimized to use fewer data. I never experienced a huge data loss (around 10 MB) even on the chat sessions longed more than 1 hour.
#4. IMO
IMO is another useful app with which you can Facetime on Android. I know I am giving you a handful of apps. Try to test all and preserve the one that suits you the best.
If you ever had some longer call on Skype, you might have experienced a call drop. But there are no such problems you can find on IMO. It works perfectly even with intensive applications in the background.
As ice on the cake, you can send beautiful stickers to your loved ones. The user- friendly interface of IMO needs no time get familiar with.
#5. Tango
See, here is another Facetime alternative to confusing you.
The best thing I noticed on Tango is its minimal interface. You can find all the essential buttons on the bottom of the screen. So there is zero chance to get a hand- cramp by sliding and tapping too many times to do a single task.
Do you use a slow connection? Then, leave every other app and download Tango right away. This is the best app works flawlessly on slow networks.
Tango app is free to download for Android as well as for iOS (for iPod and iPad as well).
Do you want to know how much data does facetime consume? you can find out facetime data usage report here.
Have You Got Facetime for Android?
There is no sense in wandering to get an answer for ' how to use Facetime on Android'. I have given the reason already. The best thing you can do is selecting any of the apps from the above list.
You can not only make voice and video calls but also send messages and share files with them.
Just go to Play Store and search for 'app name' (replace it with the app you want to install). From the list choose the app and tap Install. That's all.
I think your query gets solved. If you still want to know anything, let me know it via comments.
How to Turn Off Call Forwarding
Call forwarding or call diverting is a telephony feature, which redirects a telephone call to another destination. This telephony feature is mainly used by most of the business concerns to maintain their calls with clients.
Call forwarding enhances communication with clients and customers. Most often call forwarding is proved to be a vital part of big firms and businesses. Similarly, it can also be used in our daily life as well. For example, if you have shut your phone for some reason then definitely there are chances you can miss your important calls.
In that case, what would you do? You obviously can not inform all your friends and colleagues individually to not call on your previous number but on the new one.
So, in such situations call forwarding can be the best helper for you. You can set your new number on your phone diverting feature. So that whenever anyone will call you on your previous number, their call would be forwarded to your new number.
Most often call forwarding is way too important as I said above but not all the time. As we all know everything has some good sides and some bad sides as well. Similarly, forwarding calls can also be a headache for people sometimes. Reasons might be many, one of the prime reasons can be the inundated calls.
For example, if your business owner has set up your phone number where the forwarded calls are intended to receive can make you very annoyed indeed. Though it might not be the point of concern for many people, but for some, it can be a matter of worry!
So in that case, you might wonder for such guides like how to turn off call forwarding, how to stop call forwarding or how to unforward calls.
How to Turn Off Call Forwarding
Turning off call forwarding is a quite easy procedure. However, call forwarding feature is most often very useful, but if you really want to learn how to cancel call forwarding, then follow the below guide.
Dial *73 on your phone.
You will hear a message that the feature is successfully activated.
That is all. Your call forwarding feature would be disabled from the phone.
This is the most common method that can be used almost all the phones including smartphones. But sometimes due to the network failure or in any cases, if you are unable to stop call forwarding by the above method then you can do that manually on your Smartphone.
Below, I have covered some of the devices where I have shared the procedure for stopping forwarded calls.
Turn Off Call Forwarding in iPhone
Call forwarding is basically of three types,  Always forward, forward when busy, Forward when unanswered and last forward when unreachable. The procedure to stop forwarding is all the same in all the types. Let's head to the procedure given below.
Step 1: To disable call forwarding in iPhone firstly go to Settings page by tapping on the setting icon from the home screen.
Step 2: Scroll down to the bottom to find the option, Phone. Once you get it tap on it.
Step 3: Now under Phone option, you will see various options including Call Forwarding. 
Step 4: Now since you are here to learn how to stop call forwarding, you definitely want to make it disabled. So simply toggle the button Off to make it disable.
That is it!! Call forwarding has stopped from your device.
Now whenever you feel the need of enabling it, you can do that easily. Simply follow the above procedure to reach at the same option then click on the call forwarding and toggle the option ON.
While turning ON, you will see an option Forwarding to. Under this option, you can put any number you want your forwarded calls to.
Turn Off Call Forwarding in Android
The procedure to enable/disable call forwarding on Android is almost similar to the method I described above with just a slight difference. Let's see how to cancel call forwarding on Android devices.
Step 1: First of all go to the Menu button and then select Settings. 
Step 2: Now on the setting page, scroll down to find the option, Phone or Call Setting (the name of the option might be different. It may vary from the device's model to model).
Note: If you don't find the option Phone or call setting on the settings page, then the option may be placed at the different places on your device. You may find the option under the phone icon on your device home screen.
To find the option call setting, go to Phone icon> Menu button> Call settings. Once you have found the option follow Step 3. If you are using a Dual SIM smartphone, then you may have to choose Call Profile. Just choose the Network on which you wanted to forward the call.
Step 3: Here you will see various phone options. All you need to do is select Call Forwarding from the list of options appearing on the screen. 
Step 4: After tapping on the Call forwarding option, you will see multiple options related to call forwarding like always forward, forward when busy, Forward when unanswered and last forward when unreachable.
For all the options you can specify the different numbers once enabled. But as you don't want to keep call forwarding enabled you can disable it by tapping over the disable option.
Enabling or disabling options are almost the same in almost all the devices with just minor differences. Once you are successful finding the option, disabling call forwarding is just a few steps procedure.
However, the first method I shared that is dialing a number works almost all the devices even on smartphones. So I would suggest you follow the first method instead following these long procedures.
So this was all about how to turn off call forwarding. We hope that you liked this post, And with that, I am wrapping up this article. If you enjoyed reading it and found it useful, don't forget to share it on social media platforms.
For any query or any suggestion the comment section is all open. Drop a comment down below and share your views with us.