How to Use Google Calendar App on Your Android Device?
Are you looking for an all-in-one calendar app? If you say yes, I know you haven't heard of the Google Calendar app yet.
A calendar app should have the features to set events, reminders, and a nice interface as well. Along with all these, you will get something more on Google Calendar. The refined interface itself is very pleasing.
In this article, you are going to know how to use Google's Calendar app on Android. Are you ready to get into the core? Here you go!
How to Use Google Calendar App?
Before we get into the tutorial of how to use the app, I want to give you a brief introduction of the same.
What is Google Calendar?
As you guessed, Google Calendar is a calendar app available for Android, iOS, and Chrome as well. You can also avail of the facility by browsing calendar.google.com.
There are a handful of features that make Google Calendar stand out from the rest. The interface itself is refreshing. And, you can use the app as a scheduler, to-do-list, reminder and of course as a calendar.
Most of the phones with stock Android come preloaded with this app. In case your phone lacks it, you can download it from Play Store.
Download Google Calendar from Play Store
Using Google Calendar on Android
Now that you have got a brief idea about the app, let's move on to the usage.
First, I want to explain the interface. Look at the image given below.
The main interface includes all your activities and events. Based on your Google Plus connections, it will show birthdays. As you can clearly see in the image, it will display
Hitting the three-stripes given on the left-top portion of the screen reveals a menu, where you can change the view, access the settings, etc.
To the left, you see two buttons. The first one helps you navigate to the current day whereas the second one brings up a refresh option upon clicking the same.
On the bottom, to the right, a plus sign is visible. Whenever you want to create a goal or an event, you should use the same. (In order to plan the current day, using plus sign isn't mandatory).
How To Use Google Calendar Goals?
Are you living a goal-driven life? If you have multiple goals, it is not easy to remember all the right times. That's where the importance of Google Calendar kicks in.
Follow the steps given below to know how to use Google Calendar goals.
Step 1: I hope you have the app on your device. In case you haven't, go ahead and install the same from Play Store using the link I gave.
Step 2: I believe you already opened the app. The following is what you see there.
Step 3: Hit on the plus (+) sign to the right on the bottom. You will get three options; Goal, Reminder, and Event. Choose the very first thing.
Step 4: On the next screen, you can see five different options including Exercise, Build a skill, Family & friends, Me time and Organize my life. Lineage OS Download 
Let's go with the last one.
Step 5: Again you have to make a choice.
Here I am going to select Clean.
Step 6: You have to select the frequency of the task next. I pick the first one; once a week.
Step 7: Next up in the process, you should provide the duration of the activity. Let's take it as 15 minutes.
Step 8: Google Calendar asked me for the best time. I chose the morning here.
Step 9: You are one tap away from scheduling the task. Tapping on the tick button will wind up the process.
What if you want to get a notification before the work?
Simply hit More options and turn on Smart notifications from the upcoming screen. There you go! You will get notified before and after the session.
What if You Want to Change the Colors?
You can play with the colors of events getting displayed on the main interface. Hit the three-strips on the top-left corner and access Settings.
There you can play with the colors.
Choosing the general on top from the same screen helps you configure the app as per your liking.
How to Share Google Calendar App?
If you have co-workers, sharing your calendar helps a lot.
Unfortunately, there is no option to share your calendar from the app. Then, how can you do it?
Step 1: Visit calendar.google.com on your computer.
Step 2: Click on My calendars from the left sidebar. You will see all your calendars there.
Step 3: Hovering over a particular one will display a down-headed arrow. Click on the same to get a few options. Choose to Share this calendar from those.
Step 4: You can make that calendar public if you want. Provide the email address of the person, whom you want to share the calendar with.
The drop-down menu under Permissions should be used in the right way. In case you want to provide him/her with the option to edit the schedule, you can change it. Or else, leave the drop-down as it is.
Step 5: Hit the Add person button and finally Save the settings. There you go!
N.B.- Under Make this calendar public option, you can find a checkbox labeled Share only my free/busy information. If you are too much into meetings, that option is going to help you a lot.
Wrapping Up
I hope you now know how to use Google Calendar on Android. Once you get the complete hang of it, you will uninstall all other to-do-list apps from your smartphones.
If you are a Google Chrome user, you can install a Calendar extension on it. The app is also available for iOS as well.
Do you use Google Calendar on your phone? What's your opinion about? Do you face any issue when using the app?
Let me know your thoughts in the comment section down below. And, don't forget to share this article on social media.
How to Transfer Contacts from Android to iPhone?
Have you recently bought an iPhone? Looking for a way to transfer all the contacts from your old Android to iPhone?
Then, you have just landed on the right spot. Here, you will be learning a handful of methods to transfer contacts from Android to iPhone.
For some methods, you need to have a Google account and an iCloud account. As an Android user, I am sure that you have a Google account. Start one iCloud account also.
Are you faced with the same dilemma I mentioned above? Then, it's time to take action.
How to Transfer Contacts from Android to iPhone?
We all know that the iPhone does not run on Android. Apple has its own mobile platform, iOS. So, transferring anything from Android to iPhone (let alone contacts) is not an easy row to hoe. And, to add the blow, iPhone lacks any direct way of sharing contacts.
That's why I asked you to have an iCloud account. It will make things far easier.
I am giving you three methods to transfer contacts from Android to iPhone.
Method One: Only Using Google Account
For this method, you don't need any third-party apps or accounts. The only requirement is a Google account that you used to use on your old Android.
Step 1: Pick up your Android device. Then, go to Settings.
Step 2: Scroll down to the bottom until you see Google under Accounts. And, touch on the same.
Step 3: You will see all your Google account connected with the Android on the upcoming window. Tap on any of them (don't forget which account you select).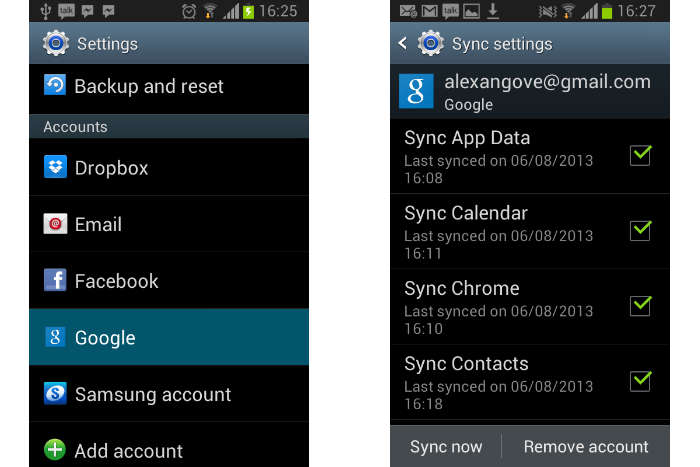 Step 4: Now, you will get a long list of checkboxes like App data, Calendar, Chrome, Contacts, Drive, etc. Tap on the fourth one that is Contacts. Your Android will start syncing the contacts with Google.
Step 5: After the sync process gets over, move aside your oldie and take up your brand new iPhone ( the process is the same for old iPhone though).
Step 6: Go to Settings and scroll down to get 'Mail, Contacts, and Calendars'. Touch on it to move further.
Step 7: If you haven't added your Google account there, just add it by choosing 'Add Account.'
Step 8: Choose Google from the next list of services. And then, you will be asked to enter the login credentials. (Make sure that you type the very same email id, which is in synchronization with Google on your Android).
Step 9: Then the next window asks you to choose the items you want to sync with. Don't forget to tick Contacts there. Tap Next.
Step 10: Wait some minutes to get it done. The time depends on how many contacts you have in your Android.
That's all. You have done it.
Method 2: Using iCloud Account
Let's assume that you don't have a Google account (rare case). And, you want to transfer contacts from Android to iPhone. In such a case, you can follow this fairly simple process to get the thing done without using a Google account.
Here, we need the help of a PC or a Mac. And, make sure you have an iCloud account.
Step 1: Take your Android phone and go to contacts.
Step 2: Get options. There must be an additional options button or key. Use the same.
Step 3: You can see a menu list in which we need to choose, Export to Storage. (The options vary from phone to phone, but there is an Export option on every phone).
(If you don't find one, you can select all contacts and just share it with the computer via Bluetooth or Wi-Fi.)
Step 4: After exporting all the contacts, send the same to your computer.
Step 5: Go to iCloud.com and login to it with your computer. You will get a home screen like this (see the image).
Step 6: From there, go to Contacts (the second option).
Step 7: You can locate a gear [] icon on the bottom left corner of the screen. Click on it to get additional options.
Step 8: Then, choose Import vCard. You will be asked to browse the vCard file here. Select those you have transferred to the PC.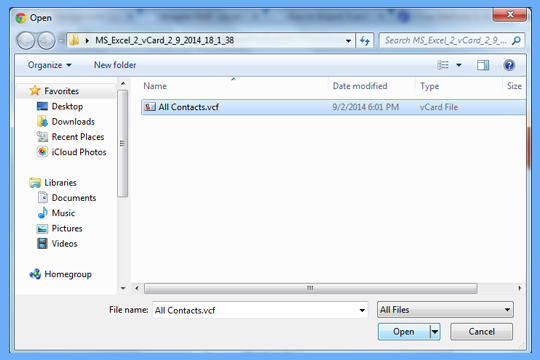 Step 9: Now, the action will be on the iPhone. Go to Settings on your iPhone and scroll down to Mails, Contacts, and Calendar. Tap on it.
Step 10: Touch on iCloud (on top). And you will get a bunch of items to be synchronized. Make sure to choose Contacts from it.
That's all. After doing all this, you need to be patient for a few minutes. Then, you can see all your Android contacts on the iPhone.
Method Three: Without Using The Internet
This is the easiest of all three. You don't need an internet connection here. The only requirement is that your Android SIM card should fit for the iPhone (either micro or nano)
Fingers crossed?
Check it out.
Step 1: Insert the SIM card into the Android phone and go to Contacts.
Step 2: Get additional options. You can see Move Contacts to SIM and Copy Contacts to SIM (or you see the option export to SIM). Choose any of them.
I recommend selecting the second. Why because the phone contacts on the Android will act as a backup in case the SIM gets defected.
Step 3: Remove the SIM and insert it on the iPhone. Go to Mail, Contacts, Calendars. Then, tap Import SIM Contacts.
Hurray!! You now know a far way simple method to transfer contacts from Android to iPhone.
Have You Done it?
I have given you three easy ways to transfer contacts from iPhone to Android. The third method doesn't need an internet connection too.
If you have any doubts about executing the above-given process, let me know it. I will be glad to solve the same. The comment form is waiting for you.
Do share this with your friends and followers on social media. Don't forget to tag those who own an iPhone.
Enjoy your weekend and check another one of our iPhone articles in here!